Join / Volunteer: Come to the CCHS meetings to join the group or download the online application and mail to PO Box 252, Manchester, TN  37349. Dues are paid annually and money is used for CCHS programs.  New members are needed, and are appreciated very much. You can also volunteer with CCHS without joining if you prefer. Complete the membership form and annotate that you are volunteering only.  You will not have voting privileges but there are many  opportunities to help, from fundraising to adoption events to working directly with animals. There is a way for everyone to participate and be of service!  If you are a minor, please have your parent sign the junior release form to be submitted with your application.
Become a Foster Home: Foster homes are needed for dogs, puppies, cats, kittens, and horses. Call if you are interested or download and complete the application and mail to CCHS. Area shelters are overwhelmed with dogs and there are no public shelters for cats or horses in Coffee County. Fostering saves lives and you will be providing a very needed service. A foster coordinator will assist you, answer questions, and be available to help if issues arise. CCHS pays all vet expenses. Some foster families provide pet food and supplies themselves, such as litter and puppy pads, but CCHS can provide these things to the foster family as requested. Foster families need to be able to transport animals to vet appointments as needed and assist with transportation to adoption events periodically. If the foster parent is able to attend adoption events, this is a plus for the pet. Families need to have time to socialize with the animals as well as provide shelter and safety. Having a place to quarantine a newcomer in the beginning, if you have other pets, is essential and CCHS will work with you in help arranging this. Foster cats are kept indoors only and foster dogs need to be indoors and walked on a leash or kept in a fenced yard or pen if outdoors.
Shop with a Purpose: Go the the CCHS online shopping page through Cafe Press and shop for CCHS logo merchandise. CCHS receives 25% of the purchase price.
Visit www.igive.com and sign up with CCHS as your charity of choice. This site links to over 700 merchants and CCHS will receive a % of all online purchases from these merchants. Many offer special discounts for using the www.igive.com website. This is a great way to earn money for CCHS and the amounts add up! The donation is sent monthly by www.igive.com to CCHS.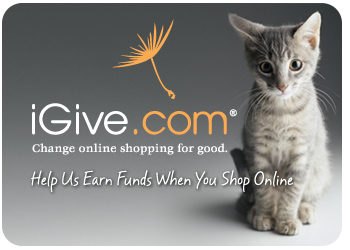 ­
­
­
You may also donate thru Paypal

­
­
­
Contribute to the Coffee County Humane Society while you shop on Amazon: